On Wednesday, March 25, 2015 at 2:00 pm, in San Francisco Superior Court, 400 McAllister Street, in Department 504, Judge Suzanne Bolanos will hear legal arguments in the case of California State Lands Commission vs. City And County of San Francisco. That hearing is public and all are invited to attend and observe the proceedings. Judge Bolanos may make a decision in the case soon after the hearing or she may decide subsequent hearings are needed before she can decide whether the lawsuit to nullify Prop. B's requirement that voters approve proposed SF waterfront height limit increases should proceed or be rejected.
---
Year of the Ram [Goat, Sheep]:  Good Year for Good Resolutions
 "A gentleman would be ashamed should his deeds not match his words."—Confucius
TIME FOR CLARITY OF MIND:  DISPELLING MYTHS TO MOVE TRANSIT FORWARD
While cars, traffic, gridlock, greenhouse gas emissions, expenditures and funding have increased, per capita Muni ridership has decreased. 
CHRONICLE:  "Bay Area transit ridership down despite subsidies, enticements"
http://www.sfchronicle.com/bayarea/matier-ross/article/Bay-Area-transit-ridership-down-despite-6067836.php
"Despite tens of billions of dollars in government subsidies and countless incentives, the percentage of Bay Area commuters taking mass transit hasn't gone up a bit in more than two decades — in fact, it's declined.
A new study by the Metropolitan Transportation Commission found that while ridership has hit record numbers on BART and Caltrain as the Bay Area's population has grown, per capita usage of transit has dropped 14 percent since 1991.
In other words, despite all the BART extensions and the new light-rail and bus lines, the slice of the morning commuters jumping into their cars to go work has pretty much stayed the same since before Bill Clinton was president."
---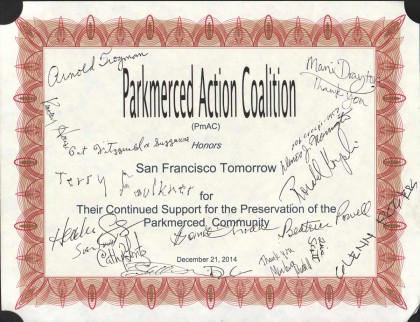 Thanks, folks!  It's great working with you.  We shall prevail!
---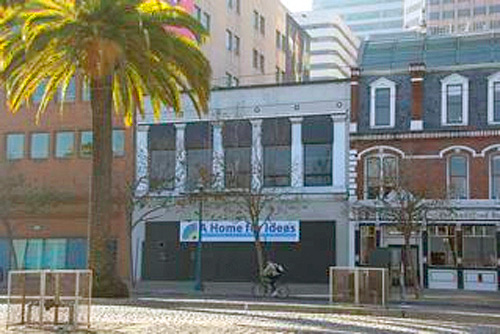 The Commonwealth Club is proposing to renovate 110 the Embarcadero for its headquarters.  It is mystifying why this respected and normally responsible organization is considering the current unsuitable design, especially since they earlier proposed a harmonious design that would have fit well into this historic block.  Instead they now propose to destroy the Embarcadero façade by installing a modern glass wall.  The building would be gutted and the back side would only partially be restored.  The Club is also unwilling to keep even one of the four healthy trees on the Steuart Street side.
---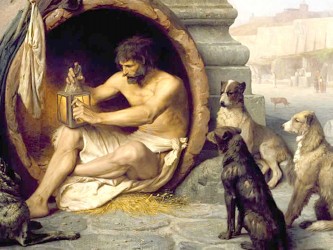 Government and public policy serve everyone—not just the rich and influential.  San Francisco has been enriched by great wealth as well as cultural and economic diversity.  Sparked by a beautiful environment and a strategic geography, San Francisco's eminence evolved through a complex mix of peoples, cultures, ideas, enterprise, finance, free-thought and creativity—which must be nurtured to incubate future innovation.
---
Where the San Francisco Municipal Transportation Agency's billions of dollars have gone: Big salaries, overhead, overtime, bad projects and cost overruns—while Muni service is cut in every neighborhood.  
BIG SFMTA SALARIES
While SFMTA (San Francisco Municipal Transportation Agency) pleads lack of funds, cuts Muni service and raises fares/ fees/ fines, 490 of its employees make over $100,000 per year—eight over $200,000, including its Director at $305,000.   Twenty-five SFMTA managers earn more than the Governor of California. SFMTA overhead alone has doubled in five years, from $55 million to $110 million per year. Vote No on A!
---
$500 million bond measures are rare but Prop A squanders the opportunity.
SFMTA (San Francisco Municipal Transportation Agency) has already wasted billions of dollars while cutting Muni service in every neighborhood.  Now Prop A incurs $1 billion in new debt (principal plus interest) with no legal commitment to Muni projects—cutting more buses in neighborhoods while raising property taxes and rents.  If new bonds are rejected, property taxes and rents would decrease for everyone—not just for rich companies and the wealthy.
---
Proposition A is a $500 million General Obligation transportation bond issue which, including interest payments, would exceed one billion dollars in total cost to the populace. Voters should reject this huge bond measure. Here's why:
Prop. A would raise property taxes and rents to significantly higher levels; the measure provides no effective oversight with no indication of who would be making the key decisions or who would be assuring effective oversight. In other words there is neither defined management nor defined oversight. (more…)
---